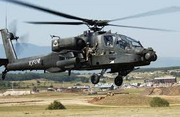 The AH-64 Apache is a helicopter gunship used to attack Darquesse when she attacked Roarhaven City. It had been recently liberated from an unscrupulous private army operating out of the Middle East. It was teleported into the battleground and behind Darquesse by Fletcher. The helicopter is destroyed by Darquesse, but Fletcher teleports the pilot out before he is killed. It lands on top of Darquesse.
Appearances
Ad blocker interference detected!
Wikia is a free-to-use site that makes money from advertising. We have a modified experience for viewers using ad blockers

Wikia is not accessible if you've made further modifications. Remove the custom ad blocker rule(s) and the page will load as expected.