Amity
Character Information
Taken Name
Amity
Species
Human
Gender
Male
Birth
Unknown
Age
Unknown
Magic
Elemental
Faction
The Four Elementals
Titles
One of The Four Elementals
Location
Ireland
Relations
Wife
Amity is an Elemental who is part of The Four Elementals.
Biography
Amity attends the meeting to elect the new Council of Elders. He gets into an argument with Shakra, believing that The American Sanctuary just want to offer their help. Amity and the rest of The Four Elementals, are later possessed by Remnants, where they are seen briefly fighting among themselves due to a minor feud.
Magic
Amity is an Elemental.
Appearances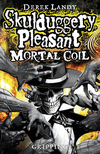 Ad blocker interference detected!
Wikia is a free-to-use site that makes money from advertising. We have a modified experience for viewers using ad blockers

Wikia is not accessible if you've made further modifications. Remove the custom ad blocker rule(s) and the page will load as expected.