Argus
Character Information
Taken Name
Argus
Species
Human
Gender
Male
Birth
Unknown
Age
Unknown
Death
May 2008
Magic
Unknown
Location
Deceased
Argus was a follower of Mevolent during the War.
Biography
History
During the War, Argus was on Mevolent's side. He worked with Baron Vengeous, giving him a safehouse. However, the Sanctuary knew, and Skulduggery arrested Vengeous.
Argus is questioned by Billy-Ray Sanguine and Vengeous. But since Vengeous is wearing Lord Vile's armour, Argus thinks Vengeous is Vile. After telling Vengeous that he made a mistake, causing Vengeous to get arrested, Vengeous reveals himself, and kills Argus.
Magic
It is unknown what magic discipline Argus had.
Appearances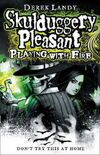 Ad blocker interference detected!
Wikia is a free-to-use site that makes money from advertising. We have a modified experience for viewers using ad blockers

Wikia is not accessible if you've made further modifications. Remove the custom ad blocker rule(s) and the page will load as expected.