"What have you done?"

This article is a stub. Please help Skulpedia by adding more content to this article.
Badstreet
Character Information
Taken Name
Badstreet
Species
Human
Gender
Male
Birth
Before 2013
Age
Unknown
Magic
Unknown
Weapons
Fake Ring of Salumar
Location
Ireland
Relations
Sabine (Seller)
Badstreet was a sorcerer who sought to possess the Ring of Salumar. In early 2013, Sabine attempted to sell a forgery of the ring to him.
Personality
He appeared almost fanatical about Salumar. He could feel the ring's magic without even putting it on. Sabine told him that he was a sorcerer of a high ability, evidenced by his ability to sense magic. However, he was slightly gulliable as he ended up paying Sabine money for the ring. She predicted that he would take two-three minutes to realise it was a fake before running out onto the main street. She therefore took a back street. This showed that he would rashly act without thinking (understanndable, considering he was just duped.
Appearances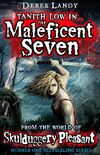 Ad blocker interference detected!
Wikia is a free-to-use site that makes money from advertising. We have a modified experience for viewers using ad blockers

Wikia is not accessible if you've made further modifications. Remove the custom ad blocker rule(s) and the page will load as expected.