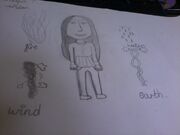 This page is about a character I made up when I was reading the Skulduggery Pleasant books.
Profile
Tala has dark blue eyes that sparkle, and she has long dark blonde hair. She is tall and strong, and she is a warrior. She has pale skin, and she wears a dark blue tunic, and dark jeans. She got her clothes from Ghastly Bespoke  (doesn't everyone?), who is her friend. Tala is from Scotland, however she now lives in Ireland. Tala is an Elemental in magic, although the rest of her family are Adepts.
Relationships
Skulduggery Pleasant:
Tala and Skulduggery have known each other since before the war when Skulduggery was killed. In about 1820, Tala and Skulduggery met up in a library, in Dublin. Tala had heard about Skulduggery so after that she helped him solve mysteries and other things like that. Just before Skulduggery got kidnapped, he had talked about Tala's past which she doesn't like, so they fell out. Shortly after that, Skulduggery got kidnapped and Tala went with Ghastly, Valkyrie and Tanith Low to save him, after she had found out from Valkyrie in China Sorrows' library when China was away at the sanctuary. When they found Skulduggery tied to a chair, "I guess this is what happens when I leave you alone for two days..." "What has happened, Tala?" "Well, Serpine breaks into Gordon's house, kidnaps and tortures you, and then I have to come and rescue you." "Hmm... Actually I see what you mean." Dialogue between Skulduggery and Tala.
Valkyrie Cain:
Tala first met Valkyrie at Gordon Edgley's funeral, with Skulduggery. They met again at the reading of the will, and then, when Gordon's house was broken into. After Skulduggery and Tala saved Valkyrie, they became friends. Tala helped Skulduggery and Tanith, teach Valkyrie magic.
Tanith Low:
Tala and Tanith first met when they were rescuing Skulduggery from Serpine. After that, they were friends. When they went to the abandoned warehouse Serpine used to make the white cleaver, Tala and Tanith fought together to help Valkyrie and Skulduggery get away.
Ghastly Bespoke:
Ghastly Bespoke is one of Tala's longest friend (apart from Skulduggery). Apart from making her clothes he has also helped her with other things.
Gordon Edgley:
Before Gordon died, they had dated for a couple of months, and Desmond Edgley, Valkyrie's father, said she was a good person for Gordon to have. At his funeral, Tala held Skulduggery's hand and cried a tiny little bit (a very tiny little bit. Very).
History
Tala's history is interesting as well as dangerous. She has a special talent with wolves, which is why, when she chose her name, she wanted it to mean wolf. "Tala" means "Wolf" and "Canagan" means "Wolf Cub". Her family were big supporters of The Faceless Ones, she, however was not. Tala was disgusted by the way The Faceless Ones would destroy all humanity, and how people actually worshipped them. When she had learned enough magic, survival skills and fighting skills, she ran away from her family, and abandoned her family crest. She hated her family and swore that she would do anything to stop The Faceless Ones from returning to Earth. Then when she met Skulduggery in 1820, she asked him if he would let her help him fight evil, and solve mysteries. He said yes, as long as she could do magic and fight for herself. When she said she could do both of these things, he asked her to prove it, she did. Tala, who is an Elemental, soaked Skulduggery's suit and then dried him off. The same night, Skulduggery got Tala into a fight, which she won, and she said that she wouldn't kill if she could. She then walked off with Skulduggery looking at the man who she had beat, lying unconscious. He then hurried after her and told her he had a Bentley. She met Gordon Edgley at the same time Skulduggery did, however, Gordon did not vomit all over her shoes, instead flirted non-stop. She, Skulduggery and Gordon were all friends and when Gordon died, she was really sad. She read most of his books, except his last two books he wrote. Later she got mad at Skulduggery because he had talked about her family to her. She threatened to snap one of his limbs  which got Skulduggery away.
I am sorry that this page has only included stuff that happened in the first two books, because that is all the I could write in the time I have. Soon I will update this page a lot!
Ad blocker interference detected!
Wikia is a free-to-use site that makes money from advertising. We have a modified experience for viewers using ad blockers

Wikia is not accessible if you've made further modifications. Remove the custom ad blocker rule(s) and the page will load as expected.