Mr. Fedgewick
Character Information
Given Name
Mr. Fedgewick
Species
Human
Gender
Male
Birth
Unknown
Age
Unknown
Magic
None
Location
Unknown
Mr. Fedgewick is a character who reads out Gordon Edgley's will. He said that he knew Gordon in the past.
Biography
Early life
Not much is known about Mr. Fedgwick's life, except that he claims to have known Gordon well.
Mr. Fedgewick reads out Gordon's will to Beryl, Valkyrie, Desmond, Skulduggery, Melissa and Fergus.
Appearances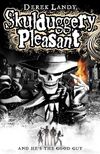 Ad blocker interference detected!
Wikia is a free-to-use site that makes money from advertising. We have a modified experience for viewers using ad blockers

Wikia is not accessible if you've made further modifications. Remove the custom ad blocker rule(s) and the page will load as expected.