Pennant was Davina Marr's associate.
Biography
Pennant was first seen when Valkyrie was being interrogated. He was meant to escort her back to her cell but Marr changed her mind.
Later on, when Valkyrie was in the portal, he and three Cleavers went to Aranmore Farm to arrest China and Fletcher. The Cleavers were beaten, but Pennant shot China. He is about to shoot her again but Fletcher beats him up. He is later seen with the Desolation Engine.
At the end of the book, when the Desolation Engine was set off in the Sanctuary, Pennant is killed.
Appearances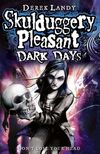 Ad blocker interference detected!
Wikia is a free-to-use site that makes money from advertising. We have a modified experience for viewers using ad blockers

Wikia is not accessible if you've made further modifications. Remove the custom ad blocker rule(s) and the page will load as expected.