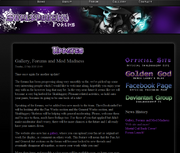 The Skulduggery Forums, also known as the Skulduggery Pleasant Forums, is an unofficial forum site for the Skulduggery Pleasant series. In recent months the forums have expanded to include Derek Landy's new series, Demon Road. They were launched on 12th June 2010 and are powered by Simple Machines Forums. The Forums feature boards for General Discussion, Fan Fiction, Fan Art, Role Playing Games as well as Off Topic and Forum Games boards.
Forum History
To be expanded upon
Forum Staff
Administrators
Global Moderators
News Editor
Plotmasters
References
External links
Ad blocker interference detected!
Wikia is a free-to-use site that makes money from advertising. We have a modified experience for viewers using ad blockers

Wikia is not accessible if you've made further modifications. Remove the custom ad blocker rule(s) and the page will load as expected.