"What have you done?"

This article is a stub. Please help Skulpedia by adding more content to this article.

Skulled is a song released in 2007 on the SkulduggeryPleasant.com website.
Description
What better way to relax than with a spine tingling slice of Horror-Hop. Experience this brand new, exciting and, quite frankly, just made-up musical genre first hand with "Skulled" by Sylvan. A bone shaking bass line merges with vintage horror movie samples.
Music Video
A music video of Skulduggery dancing was released in 2007 on the website, featuring Skulled.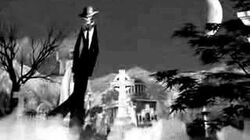 Trivia
External Link
Ad blocker interference detected!
Wikia is a free-to-use site that makes money from advertising. We have a modified experience for viewers using ad blockers

Wikia is not accessible if you've made further modifications. Remove the custom ad blocker rule(s) and the page will load as expected.