OK, im really fighting the horrible yet concuring urge coming from the inside, telling me to fill this whole page and hack the site by writing THE KINGDOM OF THE WICKED at least a 500000000000000000000000000000000000 times. I can continue typing zeros if I'd like to but you see... Maturity comes first, right? (says the Skul-maniac who jumped 2100 times when the news were heard and who wrote a million 0's.).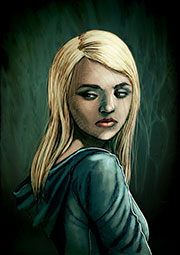 FINALLY, yeah, that's the main thing! Finally, the Kingdom Of The Wicked! I'm sure, if I know myself correct enough, I would react the same way (maybe a little more hysterical) if the book's name was actually "Paul", as everyone knows because... Derek's awesome. There's no doubt for that, geez! I was nearly passing out when the title came then I was filled with 40000 litres of coffee in a way cause I couldnt sleep for hours but dont worry, I got that covered in the maths' class, so I'm Ok. About my teacher... I think I got a verbal warning and she's driven crazy... Nah, she'll be OK.
WHY AM I BABBLING? Oh, that's my nature. So anyways, I was totally NOT messing up when I told I'll throw a so-called weekday party at my place and yeah, my parents surprised me with saying yes so I hid their costumes for halloween (a.k.a. : old 80's shirts) because cmon, the only reason why they let me throw a party, i because
they ARE going to be "invited" or typically, "involved" so... yeah...
BUT BESIDES THAT, everyone knows it's dead important for me so primary school youngsters' teacher, the "Boss" gave permission for a little "yay" applause, yet even that it made me feel even great so.. *party, party, party*
Let the final be amazing the Golden God.
-Your dear minions: [I know the holy Derek's not reading this but I'll right me and some people who are worth writing here, real names included, do NOT use them and theyre not in order, so good luck on trying my name... peace!]
Ashton, Gabriel, Mr. Fly (yeah I know, I made that reaction before), Jasmin, Brooke, Sophie, Iona, Kaitlyn and Stephanie (hmmpphhh...:P my name's cooler than hers... Right?)
Ad blocker interference detected!
Wikia is a free-to-use site that makes money from advertising. We have a modified experience for viewers using ad blockers

Wikia is not accessible if you've made further modifications. Remove the custom ad blocker rule(s) and the page will load as expected.