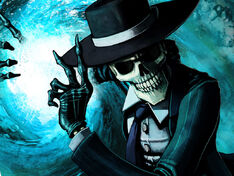 Hello, this is my first blog. Here's some things you need to know about me...
Taken name: Vendetta Dare (so messed, I know)
Given name: Zoe (nick name: Skully)
Things I love: Books; Skulduggery pleasant, IT, Wither, Hunger games. Movies; nightmare before christmas, sucker punch, pAUL, ghost rider... Hobbies; Sketching (SP characters and Tim Burton characters), crocheting. Sports; Fall is Skating, Winter is snowboarding, Spring is scootering and skateboarding, and Summer is biking.
Ways to find me: Facebook; Skulduggery Pleasant media. Fanfiction; darkntwisted13. deviant art; skully4hire.
I hope I'll blog often, but if not you'll always find me on Facebook (Admin name; Skully or Vendetta). And I'll (try) to keep you up on everything Skulduggery and Derek Landy. Bye!
~Skully
Ad blocker interference detected!
Wikia is a free-to-use site that makes money from advertising. We have a modified experience for viewers using ad blockers

Wikia is not accessible if you've made further modifications. Remove the custom ad blocker rule(s) and the page will load as expected.