"What have you done?"

This article is a stub. Please help Skulpedia by adding more content to this article.
Vandameer Craven's amulet is the object Craven used to channel his Necromancer powers.
History
Craven presumably used the Shadow Furnace at some point to make his amulet. When he was killed by Skulduggery Pleasant, it was left with his body in the tunnels underneath Gordon's mansion.
Physical Features
Craven's amulet was seen dangling from his neck in Death Bringer. Like any other Necromancer object, it was completely black.
Appearances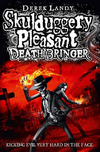 Ad blocker interference detected!
Wikia is a free-to-use site that makes money from advertising. We have a modified experience for viewers using ad blockers

Wikia is not accessible if you've made further modifications. Remove the custom ad blocker rule(s) and the page will load as expected.