Zephyr
Character Information
Taken Name
Zephyr
Species
Human
Gender
Female
Birth
Unknown
Age
Unknown
Death
May 2008
Magic
Elemental
Location
Deceased
Zephyr, along with Sev, was hired as a bodyguard by China Sorrows. They were both killed by Baron Vengeous. It is shown that Zephyr is an Elemental.
Biography
While Zephyr and Sev are protecting China, Baron Vengeous attacks them. Despite the two putting up a fight, Vengeous killed them.
Magic
While Zephyr was fighting Vengeous, she uses air and fire, meaning that Zephyr is an Elemental.
Appearances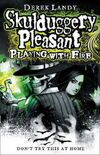 Ad blocker interference detected!
Wikia is a free-to-use site that makes money from advertising. We have a modified experience for viewers using ad blockers

Wikia is not accessible if you've made further modifications. Remove the custom ad blocker rule(s) and the page will load as expected.